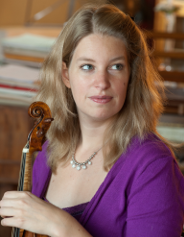 Esther Visser artistic director | baroque & classical violin
Esther Visser is a Dutch violinist, specialized in historically informed performance practice. Directly after obtaining her Bachelor of Music Degree in the Netherlands she was invited to continue her studies with Vilmos Szabadi at the Franz Liszt Academy in Budapest, where she completed a 3 year Postgraduate program. Simultaneously, she followed a 2 year program 'Formation Superieure' with the Orchestre des Champs-Elysées in France. She was coached by the concertmaster of the orchestra, Alessandro Moccia, and performed at the 'Spotlight on Young Artists' concert series of the Festival de Saintes. In 2009 she subsequently obtained her Master of Music degree for baroque violin with Sigiswald Kuijken in Brussels.

Esther acted as a concertmaster at several orchestras and during two years she was leader in the European Philharmonic Orchestra. With modern violin she works as a substitute a.o. at the Netherlands Chamber Orchestra and the Arnhem Philharmonic Orchestra. Esther performed as a soloist with orchestras in The Netherlands, Belgium, France and Finland. As a baroque violists she collaborates in concerts and CD recordings a.o. with La Petite Bande, Collegium Musicum The Hague, Concerto d'Amsterdam and Musica Aeterna.

Esther received prizes and study grants from the SNS REAAL Fonds, the Marti Keuning Eckhardt Stichting and the Ben Remkes Cultuurfonds. In 2008, 2009 and 2010 she participated at the Aspen Music festival, USA. Esther did practical artistic research on authentic performance practice of Romantic repertoire at Leuven University, winning the 'Prize of Excellence' from the Roger Dillemans Foundation Belgium for this research.

Since 2013 Esther works as a guest lecturer at Codarts, Rotterdam Conservatory, as a specialist in performance practice, coaching Mmus students. Since 2017, she works as a guest lecturer and coach for Master students at the Royal Conservatory in The Hague as well.