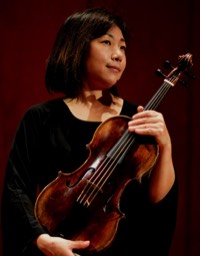 Yoshiko Morita
baroque violin | baroque viola

A graduate of Tokyo National University of Fine Arts and Music, Ms. Morita began studying the violin at age four and took third place in the 30th Mainichi Student Music Competition.
She performed in a chamber music concert in Australia sponsored by the Cultural Exchange Foundation. Her viola teachers have included Fumiki Asazuma, Toshiyuki Uzuka, Yuki Hyakutake, and Ulrich Koch. Since graduation she has been developing her interest in performing on period instruments, and has studied early music performance methods with Toshinari Ohashi and Sadao Udagawa, as well as the baroque violin under Natsumi Wakamatsu, Katharine Macintosh, and Enrico Gatti. Ms. Morita's diverse activities as a musician include both modern and period performances, such as with the Asian tour of the Asian Fantasy Orchestra (a conglomeration of musicians from many genres), the Sweet Fantasy Orchestra (big band jazz featuring a string section), and both live and studio performances with the Aska Strings Project. Fukuoka Music Festival, Tochigi Music Festival, Hokutopia Music Festival.
She is a member of several ensembles, Orchestra 18 century , De Nederlandse Bachvereniging, Amsterdam Baroque Orchestra , Musica Amphion, Het Zilverschoon Collectief, Florilegium Musicum, the Bach Collegium Japan, Orchestra libera Classica ,Tokyo Bach Mozart Orchestra, L'Estro Armonico Tokyo, Collegium Argentum, Mito dell'Arco String Quartet, Apollo ensemble, Anima Eterna .