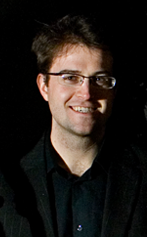 Jérôme Brodin
harpsichord
At 8 years of age Jérôme Brodin met the harpsichord for the first time. He came across this peculiar instrument, by chance, at the music school of his hometown (Compiegne, France) and immediately fell in love with it. The same year, he was accepted to the class of Sylvie Pécot-Douatte with whom he studied harpsichord untill he was 16 years old. Having moved to Bretagne, he entered the harpsichord class of Pascal Dubreuil at the Conservatoire of Rennes where, for 5 years, he studied solo harpsichord, basso continuo and chamber music.
In parallel, he followed a musicology bachelor degree in the University of Rennes and graduated in 2005. During this period, he taught harpsichord in music schools as well as privately
In 2007, he left France to continue his study in the Netherlands. He was accepted to the harpsichord class of Siebe Henstra, at the Conservatoire of Utrecht where he graduated with a bachelor degree in 2009 and a master degree in 2011.
Jérôme performs regularly with various ensembles (Camerata Ardesko, No Sopro Do Vento, Fiori di Folia etc). In 2008 and 2009, he took part in the Oude Muziek Festival in Utrecht with the ensemble La Chromosfera. Together with recorder player Ida Höög he is a member of Duo Capricci which performs every summer in Sweden. Recently, he participated in the creation of the ensemble La Chambre Du Roi, coached by the violinist Sigiswald Kuijken. This ensemble is dedicated to the interpretation of the French music, especially the French cantatas of the 18th century. Jérôme also performs as a soloist in France and in the Netherlands.